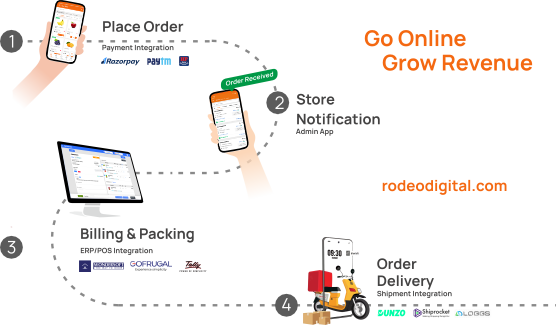 The all-in-one E-Commerce solution for your Instant Business Growth
Rodeo sets the standard for easy and secure eCommerce. You can now, compete in today's digital commerce landscape with ease, through our advanced, cloud hosted platform.
Learn More
3 simple steps to go online
It's never been so easy to begin your ecommerce journey!
Go online in 10 days What are you waiting for? Start now!
Grow your business by expanding your geographical reach, business hours and saving overhead costs
FIND OUT MORE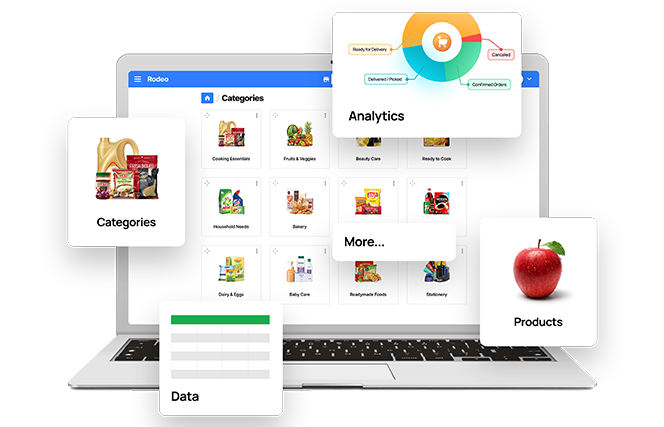 I have been using rodeo app since september 15th 2020 and the features available is almost covering most ecommerce facilities. I must point out the support as well because the response is awesome. On other side, it will be even more helpful, if the enhancements are released more quickly. So on overall I can give for the app and for the team. All the best guys.

Welmart
Chennai
It's been a pleasure working with Rodeo Team. Mobile App UI is good and very much easy to use. From Day One, the kind of Solution, Support, Services, the team has provided is outstanding. We are very much happy to say that the Rodeo Digital is our Technology Partner. Thank you Rodeo.

Grocery Avenue
Chennai
Rodeo has been the best find, in my search for a reliable e-commerce solution, the admin panel is too simple to use and needs little training. The best thing about Rodeo is their amazing customer support. 100% happy with Rodeo!

Anbu Supermarket
Chennai
User Friendly App. Customer Friendly Support. Energetic Team. Right solution at this time. Enhancements/Changes are carried out in a short time. Totally affordable and simplest solution for Online Sales!

FSM @ Home
Trichy
Rodeo team provided online portfolio for our store & we were able to go online quickly. Many of our customers have appreciated that the app is "Fantastic and completely professional". Team Rodeo, listens to our concerns and quickly brings out enhancements. We see Rodeo as our extended IT team

Sathyam Stores
Coimbatore
It has been a great experience working with Rodeo. The customer support, their feedback, the response time, have all been top notch. It has really helped me take my business online, especially during the lockdown to use this technology to scale up and expand. It has been a wonderful experience. Thank you, team Rodeo!

Farmers Store
Mumbai
We are proud to have chosen Rodeo digital as our technology partner. We are seeing very good business growth after the roll out of the Rodeo solution. Post-sales support has been consistently excellent. I am sure, Rodeo has a very bright future ahead of them.

Goa Dry Fruits
Mumbai
It has been great experience working with rodeo.customer support is very delightful and app is very user friendly.Happy with rodeo

Anam Low Price Store
Valsad, Gujarat